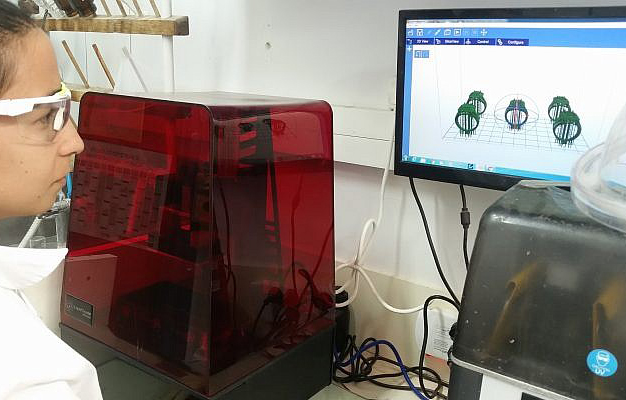 3D printing is the 'next industrial revolution,' says Professor Shlomo Magdassi, with the technology helping mass-produce cars, shoes, planes
Researchers at The Hebrew University of Jerusalem have developed a new way to create drug capsules using 3D printers, a step that will help pave the way for pills that can be tailored to perform better than the conventional capsules manufactured today.
The custom-printed pills are made out of a hydrogel in which the medication is inserted, said Professor Shlomo Magdassi, head of the Hebrew University's 3D and Functional Printing Centre, who developed the technology together with Dr. Ofra Benny, a researcher at Hebrew University's Institute for Drug Research. The substance has the consistency of malabi, a Middle Eastern milk pudding, Magdassi said.
The technology enables the creation of pills with complex designs, he explained, from star-shaped to crystalline to round, that can expand, change shape and be activated on a preset schedule. This is currently not possible, or very expensive to do, in conventional pharmaceutical manufacturing techniques. The flexibility enables the capsules to expand or release their medication at the location they need to target.
For example, Magdassi said, a tablet can be printed that can swell in the stomach to give a feeling of fullness, or to only release its medication in the intestine, where acidity is lower than in the stomach. It will also allow doctors to more specifically tailor the dosage of the drugs to individual patients.
"These 3D printed objects will be able to change shape through contact with water, or humidity – enabling them to open only under certain conditions," said Magdassi, who is also a member of the Centre for Nanoscience and Nanotechnology and Institute of Chemistry at the university.
The 3D pills are just one of the technologies developed by researchers at The Hebrew University. The university has set up a 3D printing centre in which researchers, start-ups, artists, "people from different fields" can come to utilize the various printers and implement their new ideas, Magdassi said.
"This technology is bringing us closer to a future in which the medical field can offer personalized, patient-centred care," said Dr. Yaron Daniely, CEO and president of Yissum, the technology transfer company of the university, in a statement announcing the development of the technology.
The 3D printed hydrogels are just one of many innovations that will be presented at the 2nd annual conference, 3D Printing and Beyond, to be held on Wednesday, which will bring to Jerusalem a wide range of global industry leaders and researchers to explore advances in pharmaceuticals, electronics, and defence related technologies, along with 3D printed food, automotive parts and more.
he key to moving this field forward is to continue to experiment with various disciplines, Magdassi said.
In a 3D printing process, a computer-controlled design shapes a material — like metal powder or a liquid dispersion of metal particles — to create a three-dimensional object. These objects are generally created by adding layers of material, one over the other, Magdassi explained.
Another invention, developed together with Prof. Oded Shosseyov, from the faculty of agriculture, is related to the 3D printing of wood: the researchers have come up with a special ink composition that contains wood flour and glue that will enable 3D printing of wood objects, he said. "We are now towards setting up a new start-up company to develop this further," he said.
3D printing is bringing on "the next industrial revolution," Magdassi said, in which mass industrial production will move to 3D technology using all kinds of materials — metal, ceramics, glass and wood — to develop a wide variety of products, from shoes to cars and planes.
"Airplanes today already have installed some 10,000 plane parts that are already up in the air," he said. "We are there, we are really there, and it will take off with many more printed products in the near future."
3D Printing and Beyond is organized by Magdassi and Dr. Michael Layani of the 3D and Functional Printing Centre at the Centre for Nanoscience and Nanotechnology, The Hebrew University of Jerusalem. The conference is sponsored by the Jerusalem Development Authority, Yissum, the Technology Transfer Company of The Hebrew University and The Hebrew University of Jerusalem.
As originally published in THE TIMES OF ISRAEL By SHOSHANNA SOLOMON On 6 November 2018