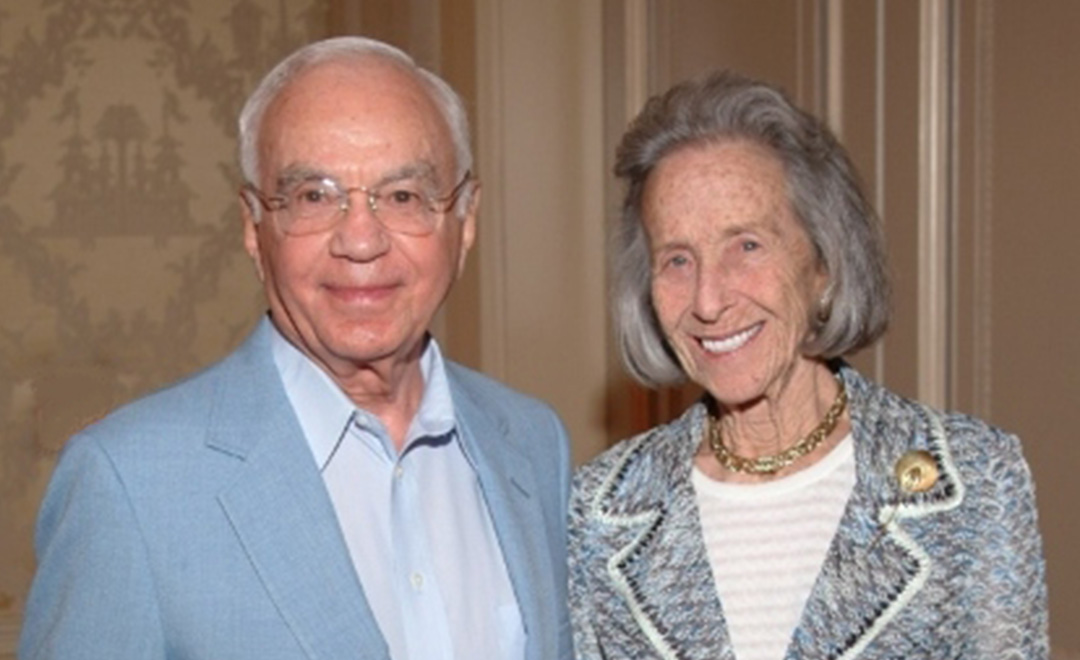 It is with a profound sense of loss that we share news of the passing of our dear friend, colleague and mentor, Barbara A. Mandel (z"l), the beloved wife of Morton Mandel (z"l), who passed away this October. A leading philanthropist and driving force behind the Hebrew University of Jerusalem's intellectual growth and development, Barbara Mandel served as an inspiring, dedicated leader for American Friends of the Hebrew University and the Hebrew University over the decades. Immensely generous with her time and support, Barbara was active on behalf of many Jewish communal causes. She and Mort propelled the success of educational, cultural, leadership and social service initiatives in Israel and the U.S., creating a legacy for the benefit of future generations.
An Honorary Chair and past President of American Friends of the Hebrew University, Barbara helped to launch and fund successful campaigns in support of Hebrew University students, faculty and research. In over forty years of service to AFHU, Barbara served on the Executive, Budget and Finance, Campaign and Nominations Committees. Vice-Chair of the Hebrew University Board of Governors, she led major fundraising efforts, and previously served in pivotal roles as International Campaign Co-Chair, Deputy Chair of the Board of Governors and Deputy Chair of the Executive Committee. She was a member of the Board of Trustees of the Harry S. Truman Research Institute for the Advancement of Peace and the International Board of Overseers of the Rothberg International School. In tribute to her contributions and unwavering devotion to the academic community, Barbara received an Honorary Doctorate from the Hebrew University in 1996.
Barbara served as Vice Chairman of the Jack, Joseph, and Morton Mandel Foundation of Cleveland, Ohio, which was founded in 1953 by the brothers Mort (z"l), Jack (z"l) and Joseph (z"l), dynamic businessmen who sought to make a positive impact in Israeli and U.S. communities by funding visionary ground breaking initiatives. Together, Barbara and Mort, Benefactors of the Hebrew University, provided transformational support for interdisciplinary research and scholarship, establishing the Jack, Joseph, and Morton Mandel School for Advanced Studies in the Humanities, a world-leading center of excellence. Prior support led to the creation of the Mandel Institute of Jewish Studies on Mount Scopus and the Mandel-Scholion program. The Mandel Chair in Jewish Education and the Barbara and Morton Mandel Chair in Cognitive Social Psychology & Education reflect their shared commitment to the highest levels of academic achievement.
Born in Cleveland, Barbara attended Radcliffe College and the Flora Stone Mather College of Case Western University. Dedicated to Jewish communal and public service, she provided leadership at the highest levels in support of the National Council of Jewish Women, the United Jewish Appeal, Brandeis University, and the Cooper Hewitt National Design Museum. She inspired many through her personal integrity, force of character and steadfast resolve to make the world a better place through an emphasis on higher education, the arts, leadership development and social service.