COVID-19, Metabolism and your lungs
Event Details
When
Thu 13th Aug 2020 @ 6:00am - 7:00am
Why you should care, and what we are going to do.
Featuring: Prof. Yaakov Nahmias
Could a simple drug, that has been on the market for decades, be used to treat COVID-19? A research team led by Prof. Yaakov (Koby) Nahmias says that early research looks promising. The team has looked at how COVID-19 changes patients' lungs in order to reproduce itself. Their major finding? This virus prevents the routine burning of carbohydrates. As a result, large amounts of fat accumulate inside lung cells, a condition the virus needs in order to reproduce. This new understanding may help explain why patients with high blood sugar and cholesterol levels are often at a particularly high risk to develop COVID-19.
Who Will You See There?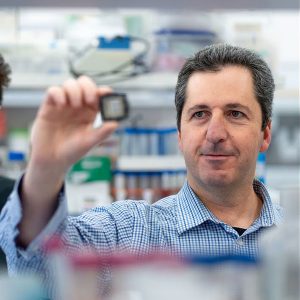 Yaakov "Koby" Nahmias is an Israeli biomedical engineer and entrepreneur. Nahmias is a professor at the Hebrew University of Jerusalem and an affiliated member of the NIH-funded BioMEMS Resource Center at Massachusetts General Hospital. Nahmias is the founding director of the Alexander Grass Center for Bioengineering.